Also from MicroFest


Tourney Trackerô
presented by



We compute entertainment!
Home Features Order Trial Download Tech Support Renew / Re-download FAQ's Entry-Net Contact Us
Take a tour of Tourney Trackerô's capabilities!

You can quickly get a feel for what Tourney Trackerô can do for you through the explanation and the product screen shots shown below.

Still not convinced? If not, feel free to download our trial version of the software and test drive Tourney Trackerô yourself! Click here for more information.
Step 1 – Enter the Tournament Pool Parameters

For supported national tournaments, you can get started quickly by downloading a "starter" or "template" pool file from our web-site. This file will have all of the team names and seeds that you need to run your pool.

If you are not using the software for a standard tournament, just enter the name of the pool, the number of teams in the tournament, the cost per entry and your ready to get started.

Each pool manager will want to choose his or her own scoring options. Tourney Trackerô allows for a different number of points awarded for a win in each round. You can also choose from five different seed-based scoring options (which give an extra bonus to those picking upsets) for each round. There are three types of tiebreakers from which to choose, or use your own tiebreaker type.

And now, you can also add advanced "bonus scoring" items (not pictured here.) With Tourney Trackerô's bonus scoring capabilities, you'll never have to do the math by hand again! You can set an almost unlimited number of bonus scenarios, such as awarding bonus points for picking all of the 8/9-seed games correctly, for picking an entire regional correctly, for picking a seed higher than 8 to reach the semi-finals, and much, much more! Click here for more information on scoring possibilities.

You also can enter how you want to divide up the pot after the winners are determined. You can award from 1st to 10th place and also last place. Payouts can be rounded to the penny, the dime, the dollar, or ten dollars.
Step 2 – Enter Tournament Bracket Setup

Enter the teams in the tournament and their seeds (optional).

Or download major tournament brackets from our website!

Tourney Trackerô handles odd-sized tournaments by allowing you to enter "Bye" as the opposing team in the bracket where a team gets automatically advanced to the second round.

For "pool play" tournaments, formatted like the FIFA World Cup (not shown here), you enter each team's name within their assigned pool and then define how those advancing advance into the single elimination tournament.
Step 3 - Setup Your Pool on the Entry-Net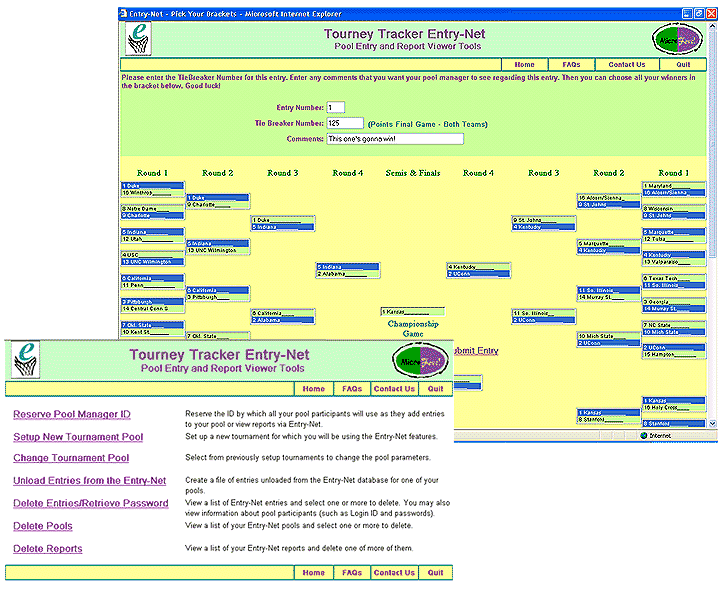 A powerful time saving and convenience tool, Tourney Trackerô's Entry-Net allows each of your friends to record their picks for free in our database for you to pick up at your convenience.

The Entry-Net is an optional feature for those of you wishing to use the convenience of the Internet. If you choose to use the Entry-Net, you must first reserve a name for yourself, your Pool Manager ID, and then define which tournaments that you will be hosting on the Entry-Net. Tell your friends your ID and our web site address and let them do the hard work for you by keying in their own picks, saving hours of work for large pools!

To retrieve entries from the Entry-Net, it takes just a few clicks of the mouse and your pool file on your PC is updated with the latest entries from our database!

Please note that you must have an up-to-date product registration to qualify for Entry-Net use.

Step 4 – Add the Entries to the Pool and Record Results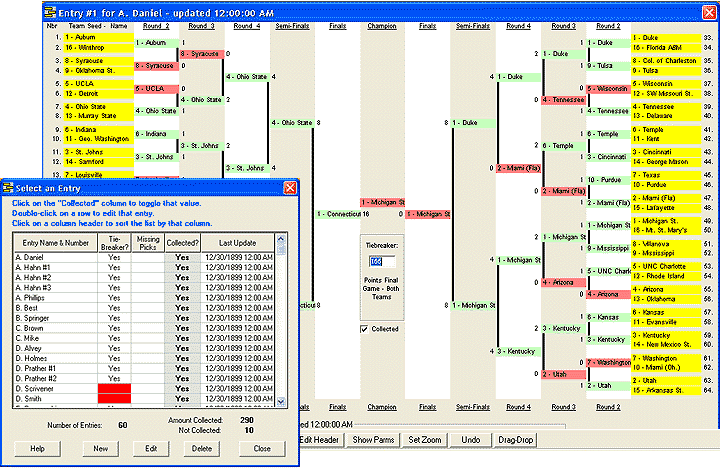 For those of you who still need to use the old-fashioned paper entry method, no other system lets you transfer the written picks to your system faster than Tourney Trackerô.
Enter the picks quickly and easily using our exclusive "drag-n-drop" method for advancing teams in the tournament. Or, for those of you proficient with the numeric keys on a keyboard, you can now enter picks extra fast by just pressing the number of games that the team is predicted to win.
Entries can be added in as little as 30 seconds each using the "upsets only" method, where the system automatically fills the bracket with the highest seeds winning so that you only have to enter the upsets!
The entry summary list makes it easy to see who has incomplete entries and who is not paid up!
You can save hours of work by using the Entry-Net, our web-based entry system for selected national tournaments. Those who own the latest version of Tourney Trackerô are able to use the Entry-Net free of charge. Please follow the links to the Entry-Net on our web-site for more information.
Use a window very similar to the Entry window above to record the actual results of the tournament -- or, for supported national tournaments, download the winning teams from our web site with just a few clicks. Results are normally posted by 8am Eastern Standard Time, the morning following the games.
Step 5 – Pool Reports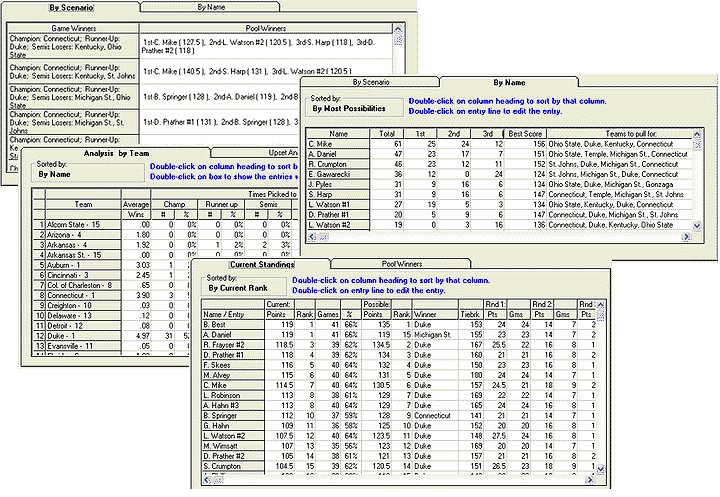 Tourney Trackerô has a full array of reports available in a snap. Click on the report name to view a sample report as it would appear on the Entry-Net Report Viewer.
The Entry-Net Report Viewer
To make your job as a pool manager easier, those who own the latest version of Tourney Trackerô can send each of these reports to the Entry-Net Report Viewer with only a few clicks of the mouse. From there, all of your friends can look up the standings at their leisure. (Note that there is a limit of one pool of each type per customer and a max of 1000 entries per pool.)
Those of you who do not wish to use the Entry-Net Report View can easily print the reports or create a file of reports in one of several formats for e-mailing to your friends.
Step 6 – Pool Winners
When the tournament is complete, Tourney Trackerô determines the winner and computes the payouts.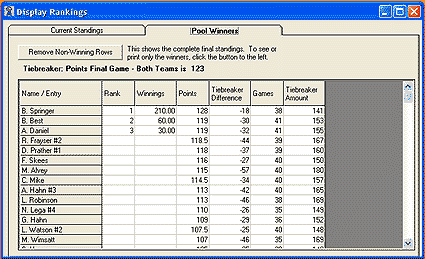 Want more proof that Tourney Trackerô is the software package for you?
Click here to download a free trial version of the software. We think you'll agree that Tourney Trackerô is the best value in pool management software on the market today! Click here to order your copy immediately!

Want to see a very detailed explanation of Tourney Trackerô?
You can download the actual Help document included with the software, which explains in detail how Tourney Trackerô works. It may answer many of your specific questions. Click here to download the document, which is in Adobe Acrobat format and approximately 700 KB.
If you need to download a copy of the Adobe Acrobat reader software, click here (it's free).
Check out MicroFest's other entertaining software products!
Free trial downloads available...Try before you buy!